Welcome to Paradise Foods' Press and Media Center.
Here, you'll find the latest news, updates, and media coverage about our company. Learn more about who we are and what we do.
For media inquiries, interviews, and press materials, please contact our Media Relations team at [email protected].
Who we are?
Paradise Foods is the first app in the Caribbean to get provisioning delivered right to your boat.
At Paradise Foods, we're more than just a provisioning service; we're passionate sailors, adventurers, and stewards of the Caribbean. Our journey began with a love for the sea and a vision to transform the way sailors experience paradise.
Easy & convenient provisioning allowing our users to explore the Caribbean with no stress or worries
User-friendly app (Android & iOS) where users can effortlessly order groceries and have them delivered directly to their boat
Maximum convenience for charter companies, so that they can focus on their business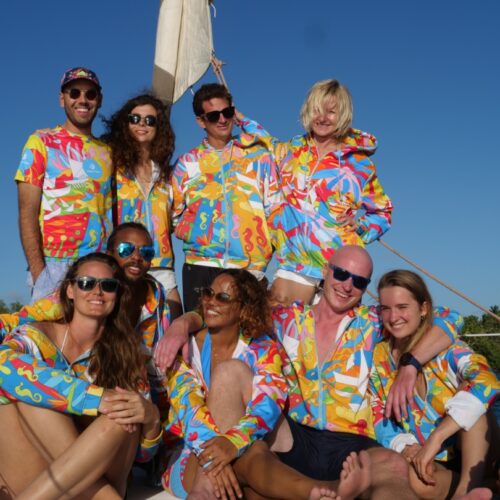 Our story
Nestled in the heart of the Caribbean, we embarked on a mission to enhance the sailing experience by eliminating the hassles of provisioning. We've experienced the challenges firsthand—long journeys to distant supermarkets, the struggle to keep groceries fresh, and the desire for local, flavorful delights. That's where our story unfolds.
Innovative solution
We introduced the Paradise Foods app, the Caribbean's first grocery delivery service. Our app simplifies provisioning, allowing sailors to focus on what truly matters—the joy of sailing.
With our innovative approach, we bring the supermarket to your doorstep, whether you're anchored in Sainte Anne, moored in Grande Anse, or docked in Le Marin.
Facts about Paradise Foods
Founded in 2022 by Zoe Adamovicz and Moritz Bratzke
Nestled in the heart of the Caribbean – on Martinique, and now expanding the services to other Caribbean islands
Turning old-school, time-consuming provisioning for sailors into seamless, easy process, allowing them to focus on what truly matters—the joy of sailing
Investors: FoodLabs
Company size: 25 people
Locations: Le Marin (Martinique), Berlin (Germany)
Stay up-to-date with our official press releases. Explore our announcements, partnerships, and exciting developments as we continue to serve the Caribbean sailing community.
Discover what the media is saying about Paradise Foods. Read articles, watch videos, and explore interviews that feature our innovative solutions and commitment to sustainability.
Download our Media Kit for access to high-resolution images, logos, and brand assets. Get everything you need to accurately represent Paradise Foods in your media coverage.